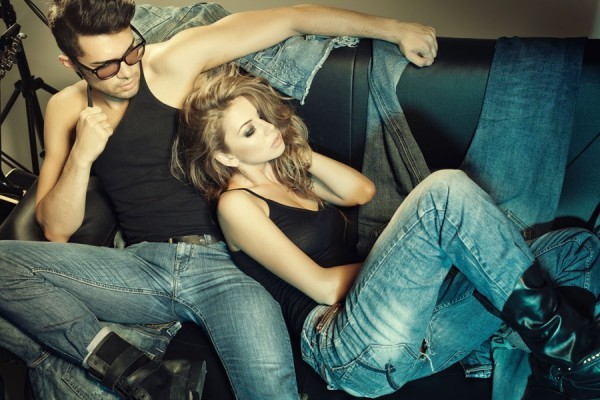 We all know that jeans are irreplaceable. They say that every woman, in her wardrobe, must have a little black dress. That is true. What she also needs is at least one pair of jeans. Read on to find out the best jeans for women for all body types.
[sc:468×60 ]
Shopping for denim often turns out in an exhaustive process. That happens because you can't find the right jeans. If you know which styles and brands fit and flatter your body shape, denim shopping will be one of the most pleasurable things you've ever done in your entire life. Check out our best jeans for women.
If you have a pear body shape with cute, bubbly but and thighs then these are the jeans you should go for:
High rises – they'll lengthen your legs and cover your behind.
Trouser cuts – as long as they don't have those annoying angled slash pockets in front, which don't get along with our thunder thighs.
Wider legs in general – boot cuts, flares, etc. Straights are about as narrow as you should go.
Thicker, stretch denim will make your life easier.
Large pockets – preferably without too much detail, if you'd like to minimize your butt.
If you are curvy aka an hourglass then search for these jeans:
The wide leg, this will balance out disproportion between skinny calves and your butt.
Cuts that run the size or two bigger in the hips than in the waist, this will prevent the dreaded "gap waist".
The lower rise in front with a contoured waist – this will balance you out and add length to the torso, while higher back rise will prevent from flashing people.
Long inseams!
If you are tall, all shoulders with a boyish look and wish for more curves, the right jeans can give you the curves. Try these out:
[sc:Right300x250 ]
Long inseams
Skinny cuts (but be careful of the length, since skinnies will often run short). These will add curves and balance out your shoulders.
A wide flare can also work, as long as they are fitted above the knees–too baggy all over and you might find well-meaning townspeople trying to offer you a sandwich.
Interesting details, pocket embellishments, fun washes, etc. – almost anything goes!
A low rise, which will add curves to butt, and tone down the length of legs.
If you are an apple like Amy Winehouse or Kesha, then only thing you have been focusing is your flat butt and your generous tummy. Well, there are jeans specially made just for you:
Trouser cuts – especially if the have funky flap pockets or welt pockets in back. Clean front styles are probably best, and a great wide leg will balance things out. Bonus if you can find some with a side zip.
Either a slightly high or very low rise, depending on how you feel about tummy. Higher rises will hold things in, but if you're a slender Apple, a super-low rise will add curves to your butt and add length to your short waist.
Skinnies – especially with a flowy peasant top.
Crops, as long as the weather cooperates – your long and thin legs should be shown off!
Well, those were the best jeans for women. Listen to our tips and try out a new style of jeans. You will not regret it. Hope you enjoy "Find Out The Best Jeans For Women For All Body Types" article!