Tattoos are a powerful way of expressing creativity. This kind of body art is intimate and meaningful way of expressing yourself. Chest tattoos for women are one of the most powerful tattoo designs.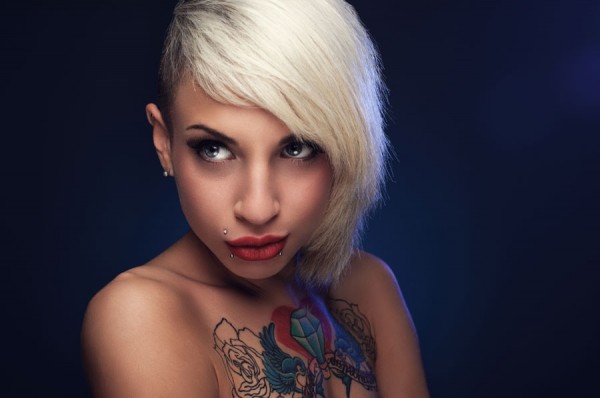 Society has certain gender expectations. These expectations are grounded in stereotypes of "traditional femininity". The stereotypes try to keep women away from inking their bodies. Tattoos in indiscreet places ( e.g. chest ) often contribute to creating a wrong opinion about someone. Mostly, women with tattoos are considered sexy, but easier than other women. A lot of employers consider women with tattoos unprofessional.
[sc:Right300x250 ]
But tattoos are more than just inked skin. Their content and their location has a certain meaning.
Chest tattoos for women are intense pieces of art. Women who get a tattoo on her chest is very creative, brave, strong and independent.
Chest tattoos for women are very powerful. These tattoos signify that these kind of women are strong enough to withstand the pain and willing to change their body ( because they want to ), not worrying about the opinion of others.
Would you be brave enough to cover your entire chest with ink? Well, I know I wouldn't.
But if you are one of these brave women and you have come to the right spot. Do you want to get a chest tattoo, but lack the idea for the design? We bring you the most powerful and creative chest tattoos for women.
Lace Design Chest Tattoo: Lace is a sign of elegance and femininity. Getting the lace tattoo on your chest indicates strength too. You can get this design done in traditional black ink, or you can choose another color. What do you think about purple?
Animal Design: Do you simply adore butterflies? Or maybe you find the deer exquisite? Well then, get an animal design inked on your chest. Animal designs are pretty popular nowadays.
Flower Design: Who doesn't like flowers? Roses make very pretty and feminine tattoo designs. You can get one big rose, or maybe even a couple of roses inked on your chest.
Quote Design: Do you have a certain quote that describes you? Or maybe a quote that is your inspiration? Quote designs are pretty famous nowadays. They send a strong message and represent your thoughts and beliefs.
Abstract Design: Abstract designs are very innovative and original tattoo designs. They represent creativity and imagination. They are also inspirational.
[sc:468×60 ]
[Must Read This: Consider Beautiful Tattoo Designs for Women]
Chest Tattoos for Women – All Images from Flickr.com

[flickr.com/search/?q=Chest+tattoo+women]
These are some of the most popular chest tattoos for women. These tattoos are very powerful and show off your imagination, strength, and inventiveness. It is not an easy decision to choose this body part and have it inked.
If you were having doubts about design and position for your brand new tattoo, we hope that this article has helped you get rid of your indecisiveness. Good luck!