Guess what? Ripped jeans for women are in again! The irony of ripped jeans is that it takes so much time to produce something that looks so reckless. In this article, we bring you tips how to wear ripped jeans for women and how to make ripped jeans on your own.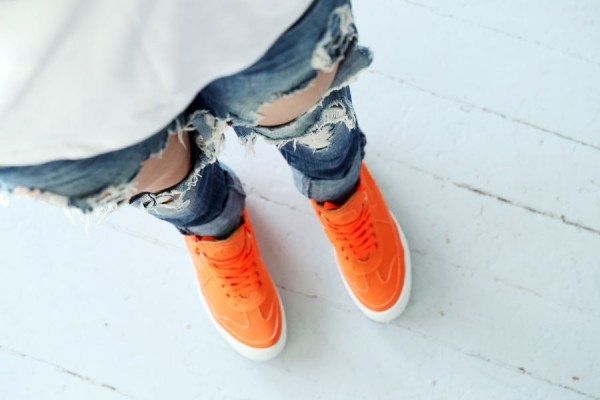 When talking about ripped jeans the main challenge is to try to make them as much as comfortable while still aiming for the distressed jeans to look effortlessly pulled together. The chicer, the butter, but the stylish doesn't come by the way of channeling your femininity. There are endless and admittedly exciting ways to wear your ripped jeans. By wearing them, you can look classy, edgy and even super-tough.
How To Wear Ripped Jeans For Women?
[sc:300×250 ]
To create a casual, cool and effortless look, ripped jeans are THE must-have of the season. Sport the boyfriend cut, with a cute basic top and coloured accessories. For a more urban look, style it with a pair of sneaker wedges, another cool trend for spring.
So, go for those boyfriend jeans featuring cuts that expose whole knees or sections of leg. Complete the statement with slick heels to keep the balance leaning towards sophistication or embellished flats for a super cool-slouchy look. There are also skinny, straight and slouchy ripped jeans of various colours. Pair your cuffed boyfriend jeans with basic staples up top (tank tops, white button-downs, or statement sweatshirts);
Preserve their carefree orientation by wearing them with pointy flats, or a cool pair of sneakers, but know that you can never go wrong with heels; Limit your accessories to a roomy bag and add a floral bomber or a denim jacket for more of an effortlessly, street-ready look.
If you want to look sophisticated while wearing ripped jeans for women then you should:
Pair your distressed jeans with delicate floral blouses and crop tops, layered underneath sleek blazers or biker jackets.
Wear your torn-up jeans with a sheer button-down in a delicate pastel shade, favoring the inverse shirt buttoning.
Team the cuffed ripped denims with a pair of high heels (printed pumps, ankle strap, cutout or lace-up sandals).
Style your denim look with a soft, easy hair-do: deconstructed milkmaid braids, soft low ponytails, sporty french braids.
[sc:336×280 ]
Wondering How To Make Your Own Ripped Jeans?
That is so easy!
Choose your jeans.
Do some research. Look online for ideas where to rip your jeans.
Take some sandpaper, lay your jeans on a flat surface and rub the sandpaper over the jeans.
If you want to, Use scissors or a knife to increase fraying.
Distress the remainder of your jeans. Tear the corner of a pocket. Rub sandpaper or a greater over random areas. Sit on concrete or the ground more often to create natural distress at the back of the jeans.
And that is it! Ripped jeans for women are in this entire year. If you don' t have any go and buy them or even make them by yourself.