This year a lot has been going on in the fashion industry (when it comes to jeans). Skinny jeans were fighting to stay on top because ripped jeans have been pushing through and there was a new comeback. Mom jeans aka high-waisted jeans are coming back. But what happened to casual white jeans for women? Well, don't worry about them. They are still safe and sound.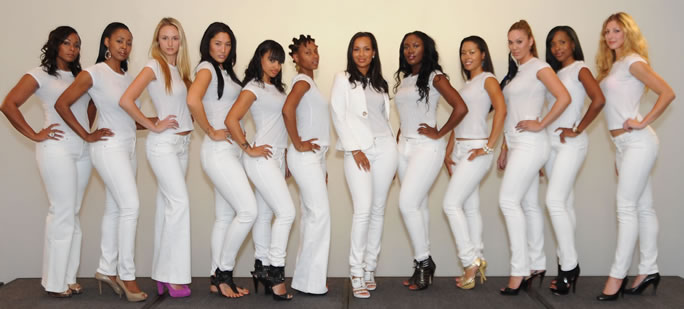 Image @ PZI Jeans Launches the Lisa Raye Collection – (curvymagazine.com)
White jeans for women are one of the favourites to wear during the summer. Only thing you should pay attention to – is how to wear them right. Read on to find out the best tips for finding perfect white jeans for your body.
[sc:336×280 ]
When it comes to white jeans, their colour tells us immediately that they are delicate. It means that little details mean a lot. Pay attention to these details. White denim shows more wrinkles and lumps than blue, so go for a snug fit, but not one that squeezes you – even if that means going up a size.
Simple, unadorned back pockets won't add bulk or flatten your behind.The best front pockets are shallow so they won't bunch up at the top of your thighs or show through. An easy fix? Just cut 'em out (or have your tailor do it).
Now let's discuss the body shapes. For wide hips, flared legs are the best solution because they balance out your curves. For full thighs, white jeans with roomy legs are perfect. If you are blessed with a full rear, then super-stretchy fabric will mold to your shape. If you have a tummy, high-rise waist mixes every muffin top.
For inspiration, check out some celebrities who rock the white jeans. Katie Holmes, J-Lo, Elle Macpherson and even Liz Taylor are the perfect examples. Also, Liz Taylor proves that white jeans for women are a hit even since the 1960's.
[sc:300×250 ]
When it comes to pairing your white pants with your tops, it is very simple. Your shirt can be in any colour; even white on white looks good. Bright or even neon colours look great too. You can add accessories like e.g. a belt.
When it comes to shoes again, everything works well. Flats, heels, sneakers, converse and even boots.
White jeans for women have been a big hit since 1960's. They look great and with them you can go from elegant to the athletic look. And the best thing about them is that you can pair them with everything.
P.S. Before you leave the house, check yourself out in the mirror. There is nothing worse than a perfect outfit ruined because people on the street can tell the color of your undies. Try nude garments to hide the fact that the pants are slightly show-through.