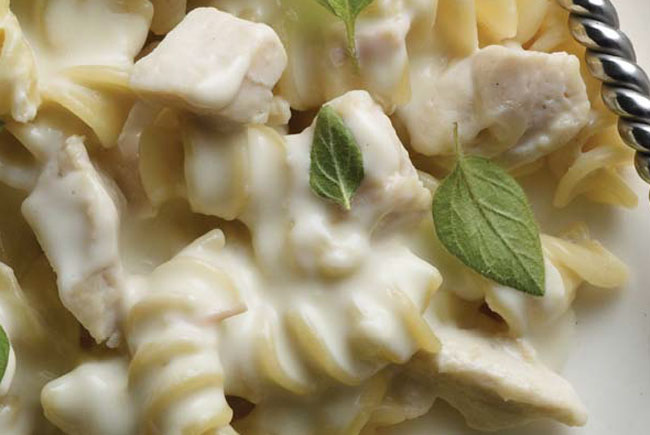 Quick and easy cooking, Chicken Alfredo With A Twist saves for calories and fat by using the fat-free half and half and boosts the fiber content by incorporating whole grains. Whole-wheat Rotini noodles are used to replace traditional fettuccini noodles. These 'twists' make this recipe a healthy alternative to "classic chicken alfredo". Pair the serving with a refreshing vegetable side dish to give your kids meal that is sure to please. I hope you like "Chicken Alfredo With A Twist Recipe".
[sc:468×60 ]
Ingredients
1 L cups Fat-free half and half
2 ½ cups Rotini pasta, whole-wheat, dry (10 oz)
¼ tsp the Ground white pepper
2 cans Low-fat, reduced-sodium cream of chicken soup (two 10¾-oz cans)
V tsp Garlic powder
L cup Grated parmesan cheese
3 cups Cooked diced chicken, ½" pieces (12 oz)
[sc name="NativeShoppingAds" ]
Directions
Use the large pot, bring 2 quarts water to a boil. Gradually stir in pasta and return to a boil. Cook uncovered about 8 to 10 minutes or until tender. Do not overcook. Drain well.
Mix soup, half-and-half, garlic powder, pepper, parmesan cheese and chicken in a large pot. Cook around 5 minutes over medium heat, often stirring. Heat to 165 °F (or higher) for at least 15 seconds
Combine noodles and sauce right before serving. (serve hot)
Preparation Time: 15 minutes, Cooking Time: 15 minutes and Makes six 1-cup servings
Nutrients of Chicken Alfredo With A Twist
Protein 30 g, Calories 345, Carbohydrate 41 g, Dietary Fiber 3 g, Total Fat 8 g, Cholesterol 69 mg, Saturated Fat 4 g, Vitamin A 450 IU (29 RAE), Vitamin C < 1 mg , Iron 2 mg, Calcium 174 mg and Sodium 572 mg.