Trapeze dress is also known as sack dress or tent dress featuring side seams which are thin beneath the armhole, cut straight and expanded at hem.
This dress may be wider at the lower part. The shape of this dress is as a trapezoid.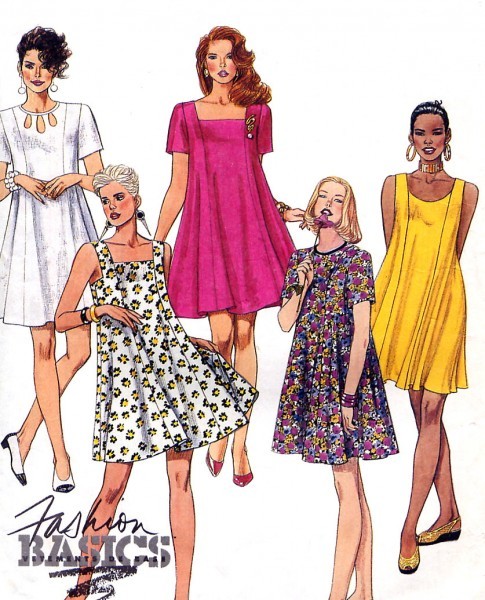 Image @ Trapeze Dress Pattern
[sc name="NativeShoppingAds" ]
Who Can Wear Trapeze Dress?
If you are short, then wearing this kind of dress will be a challenge for you. Not only for short women, but also it will be a challenge for tall women. This is a shapeless dress. So women with model type figure may not suit this dress.
Advantages Of Wearing Trapeze Dress
There are some advantages of trapeze dress. The main advantage is the shape of this dress. It's shapeless. So if you want to hide the structure of your body, this dress is perfect for you especially for pregnant women. They will be fine with this type of dress.
This dress is trendy. So it is hard to avoid the trend. This is easy to make for the designers for having less complexity in it. So designers often feel comfortable to design this type of dresses.
Some Useful Tips
This kind of dress is shapeless and so women often have a problem with it. Some women have said that it makes them look like pregnant women. If you need a well-fitted dress, this dress is not for you. This is a trendy dress, but you need some tips to avoid some problems and for looking trendy.
You need to stand straight when wearing this dress. You can put a belt if you want to have a perfect shape. You need to avoid this dress in mini length. These will help you to look beautiful with this dress.
The Trend
The tent dress isn't for everyone. The retro look might not suit you. This dress is suited most with heels and bare legs. This combination makes a sexy appearance. Simple accessory goes with this trendy dress. Just pick up simple jewels. It will turn into gorgeous appearance. This dress can be in different colors and in different length. Pick up the suitable one.
More Photos 'Trapeze Dress Pattern' from Pinterest.com
Where Can You Wear Trapeze Dress?
This is a stylish dress. This is the perfect for any kind of party. If you are looking for a dress for your day to day life, this dress might not be the perfect one for you. Just avoid this one. Go for another type of dresses. This is a perfect night time party dress.
When searching for stylish dresses, women always try to find out an exception and trendy dress. In this point of view, trapeze dress is the trendy one. You will be able to find out this dress easily in your nearby store in variety types. For more collections, check out the designer's dresses. Go to the online shops. It will also help you.
There are dresses of different types. You will get one within your budget besides saving your time. This isn't a well-fitted dress. So try out the desired dress before buying it. It will help you in getting the perfect one for you in the perfect length.