My friend send the Dyeing armpit hair photo from twitter. Society of American women has sprung hit by the recent trends of fashion in favor of "dyeing armpit hair" among women. And a photography shows off the social media.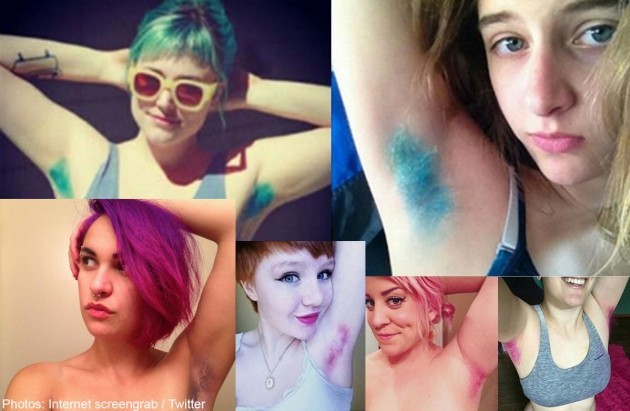 Image @ New beauty trend – Dyeing armpit  : Women.asiaone.com
This is the short news from Straitstimes.com
PETALING JAYA (THE STAR/ASIA NEWS NETWORK) – A new trend has emerged among women – growing their armpit hair and coloring it bright (dyeing armpit hair). Ms. Roxie Hunt, who works at a salon in Seattle, United States, said in her blog that she always wanted to dye someone's armpit hair. "I've always wanted to color someone's pit hair, I have actually done it once but it was at late night with too much wine and without the proper tools available. "I asked my co-worker Rain if she would be down to let me dye her pit hair blue to match her hair color and she agreed," Ms. Hunt wrote. In her blog titled Offbeat Home and Life, she also gave a detailed explanation on how it was done. On Instagram, many women have posted pictures of their dyed pit hair using the hashtag #dyedpits.

 
Images @ That's one way to use up your hair dye! Bizarre new beauty trend sees women coloring their ARMPIT hair before sharing the results on Instagram (dailymail.co.uk)