Have you ever wondered what was one of the quickest ways to lose weight? Well, the answer is sauna suit weight loss. Now you probably wonder what is sauna suit weight loss. Keep reading this article in order to find out everything about this weight loss method.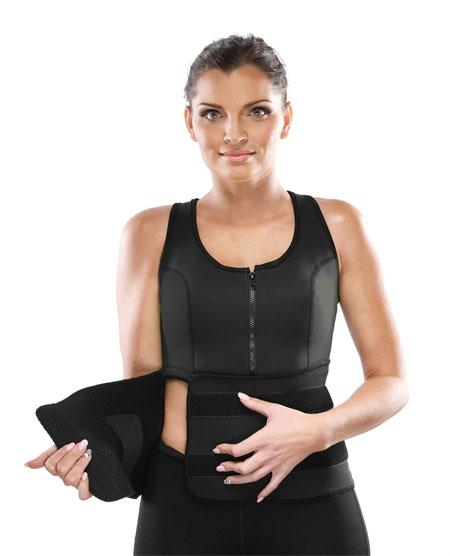 Image @ Sauna Suit – Training Vest for Women Exercising
[sc name="NativeShoppingAds" ]
What Is A Sauna Suit?
A sauna suit is a garment made from waterproof fabric designed to make the wearer sweat profusely. A sauna suit is sometimes called a "rubber suit" because the early types were made of rubber or rubberized cloth. Now, sauna suits are typically made of PVC or coated nylon cloth. The construction is typically in the style of a waterproof sweat suit, consisting of a pullover jacket and drawstring pants. The closures at waist, neck, wrists and ankles are all elasticated to help retain body heat and moisture within the garment. In some sauna suits, the jacket also includes a hood to provide additional retention of body heat.
Sauna suits have the same effect as sauna does. Mostly athletes ( boxers, wrestlers, … ) are the ones who used sauna suits in order to take a few pounds off before the match.
How Does Sauna Suit Weight Loss Work ?
The sauna suit for weight loss works this way. You wear a suit during your exercises. This way the suit causes you to sweat excessively. You lose the weight in the form of sweat – water and electrolytes.
The real question is, does this method work?
Sweating excessively has no useful purpose in a healthy weight loss.
It works when it comes to weight loss for a shorter period. For example, this method works for wrestling, boxing, and other sports gyms where guys need to lose a few pounds in order to make a weight class.
But, as soon as you eat some food and drink water the weight will be back. So this method only works if you want to lose 1-2 lbs for a shorter period.
[Check Out: Review on Slendertone 7 Program Abdominal Muscle Toning Belt]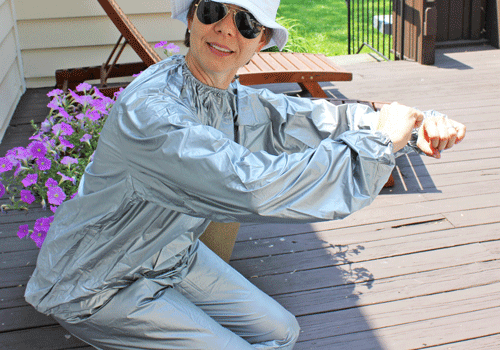 Image @ Testing the Sauna Suit – saunaflow.com
Is Sauna Suit Weight Loss Dangerous ?
Unfortunately, the answer to this question is – YES. Sauna suit weight loss can be very dangerous. During excessive sweating, you can dehydrate. There is also a risk of overheating (heatstroke), extreme loss of electrolytes (kidney damage/death) and other cardiovascular related emergencies, due to electrolyte imbalance in your body.
In 1997 -1998, three wrestlers died in separate incidents in which they were exercising while wearing rubber suit in an attempt, reports Viscardi.
If you were hoping to lose weight quickly with this method, we would advise you not to. As we have already mentioned, sauna suit weight loss is only good when it comes to weight loss for a short period of time. Also be aware that this method is particularly dangerous.
If you want to lose your weight stick to a healthy diet, exercise and spend more calories than you consume. A safe weight loss is 1-2 lbs per week.